Camp DeSabla, at 2000 ft. elevation in Northern California's Butte County, is a favorite of outdoor enthusiasts. The camp is nestled in the beautiful foothills of the Sierra Nevada Mountains, an area noted for tall pines and blue skies.
Enjoy fishing or row-boating on Lake DeSabla or venture out to explore nearby parks, including Bille Park, which features a half-mile trail along the south rim of Butte Creek Canyon, or Merlo Park in the tiny community of Stirling City. The town of Chico, about 30 minutes away, provides golf, shopping, and excellent dining. Nearby Paradise celebrates Gold Nugget Days each April, a favorite time for locals and visitors to remember a rich mining history. Though near Paradise, Camp DeSabla was unaffected by the 2018 Camp Fire.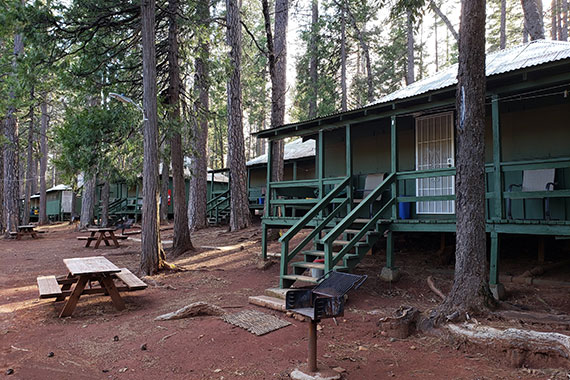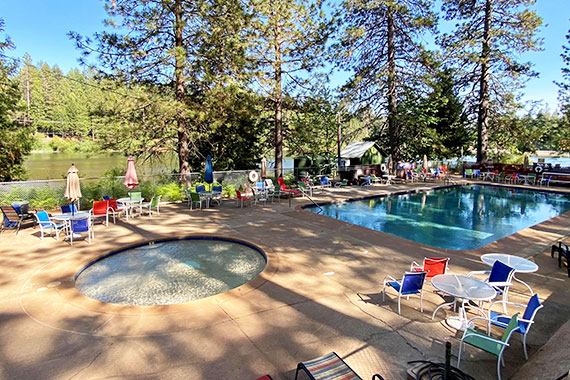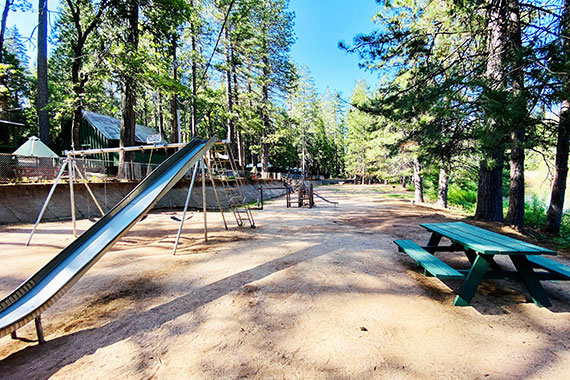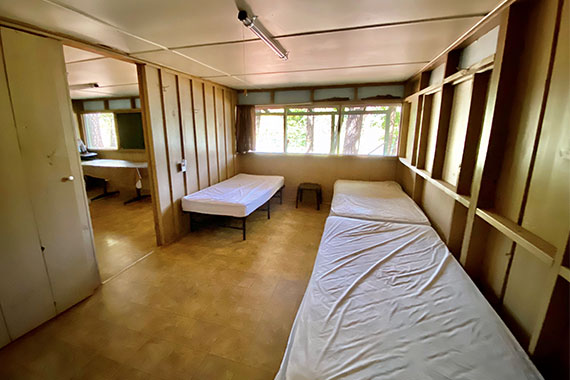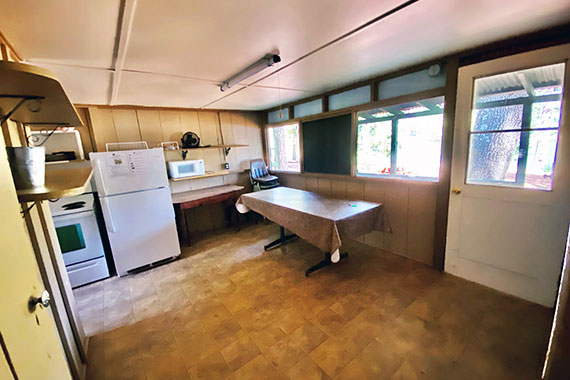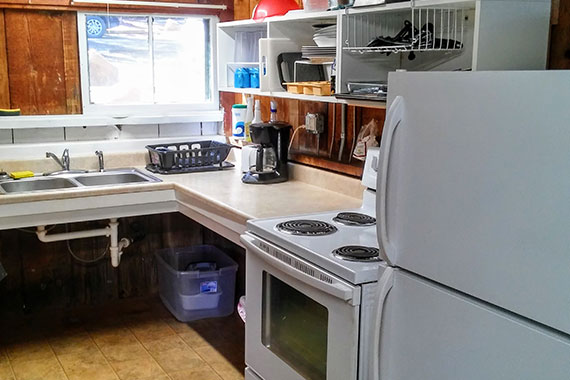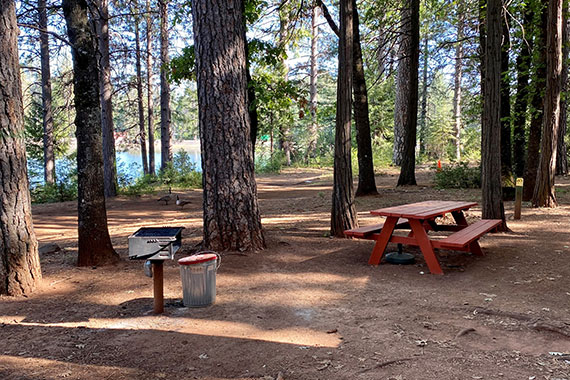 heated swimming and wading pool (open during peak season)
playground, including ping pong, a gym set, basketball, volleyball, a swingset, and three horseshoe pits.
rowboats and paddleboats for use on the lake
laundry facilities
wi-fi (limited)
large community fire pit (check with the host regarding firewood availability)
Supplies may be purchased from stores in the nearby town of Magalia.
Note: Private boats with electric motors and inflatables are now allowed on the lake. Electric motors may also be used on the camp rowboats. PG&E periodically lowers the lake level. All California fishing laws apply to Lake DeSabla, and they are strictly enforced.
There are sixteen cabins, each sleeping six people. Cabin 7 has two bedrooms, a screened-in porch, ceiling fans, and a futon in the living room.
Each unit has the following:
table and chairs
one double and four twin beds
a bathroom with a shower.
a fully equipped kitchen with an electric range, refrigerator, microwave, coffee maker, toaster, cookware, dinnerware, etc.
barbecues (charcoal is not provided).
Campers must bring their own toiletries and linens (sheets, pillows, blankets, and towels).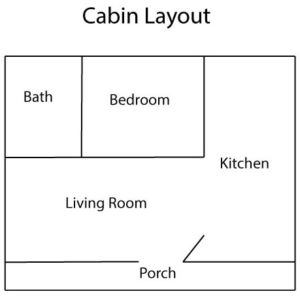 The camp is located about 28 miles east of Chico on Lake DeSabla, the forebay for the DeSabla Powerhouse, at an elevation of 2,700 feet.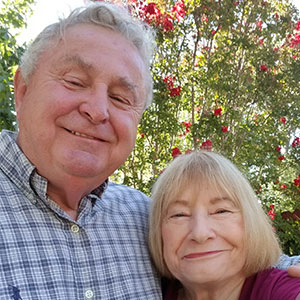 Terry & Linda Peterich
(530) 873-5083
6080 Camp DeSabla Lane
Magalia, CA 95954
"Terry, Linda, and Sandy are awesome!! Camp is well taken care of.  Lots of hard work going on there.  They are warm, welcoming, hardworking, and motivated to make the campers happy." – 2021 guests
"Another great visit at Camp DeSabla! Terry, Linda, and Sandy have the camp running smoothly. They are a great fit for camp, and run it well, are friendly & organized." – 2021 guests
Several water bodies in the southwestern United States, including California, have become infested with the non-native Quagga mussel in recent years. This species is very invasive and, once introduced, can proliferate rapidly. The spread of these mussels is very damaging to the native ecosystem and ultimately causes significant harm to water collection and distribution systems, including power generation facilities. Fortunately, they are not currently known to exist in any PG&E reservoirs. The biggest risk factor for the spread of this species is bringing watercraft or water-related equipment from infested waters. If you are planning to bring a boat or other water-borne equipment to a PSEA facility, find out more about how you can help prevent the spread of this species by going to the Department of Fish and Game website at https://wildlife.ca.gov/Conservation/Invasives/Quagga-Mussels.