Camp Almanor lies on the shores of Lake Almanor, just south of Lassen Volcanic National Park. Lake Almanor is one of the largest artificial lakes in California, with 52 miles of shoreline to explore. Summer water temperatures of 70 degrees make this crystal-clear blue lake an ideal destination for picnicking, boating, water-skiing, kayaking, and SUP, as well as fishing for species such as bluegill, trout, and bullhead.
The region features extensive trails for hiking and mountain biking that offer spectacular scenery. Almanor's paved Lakeside Trail, which runs for nearly 10 miles, is open to wheelchair, pedestrian, and bicycle travelers. Several golf courses are also located nearby.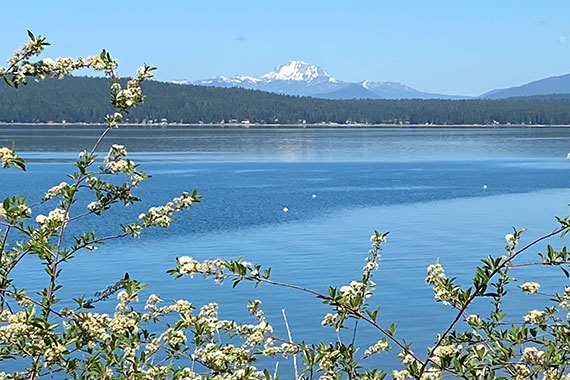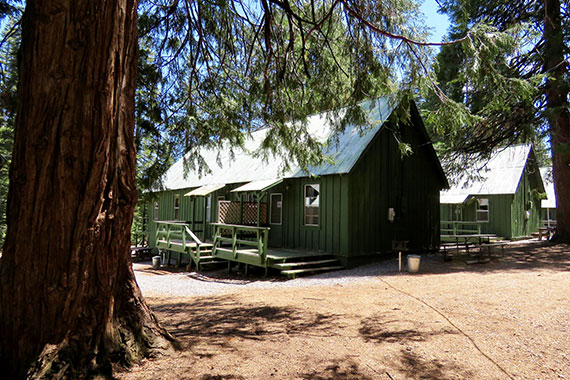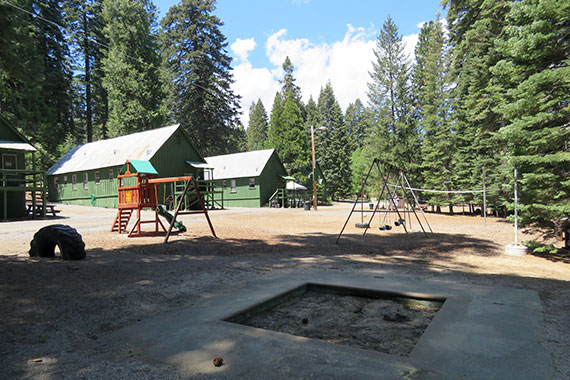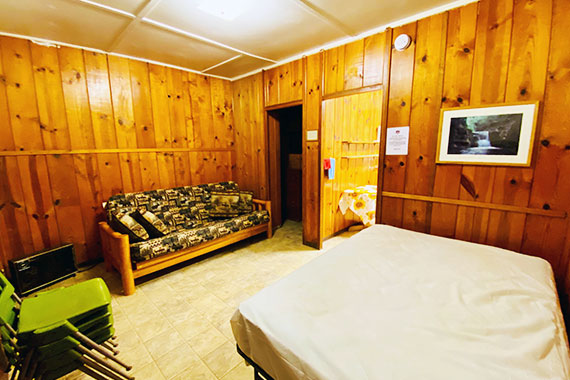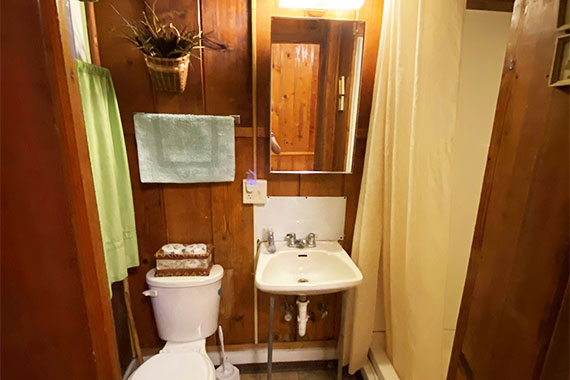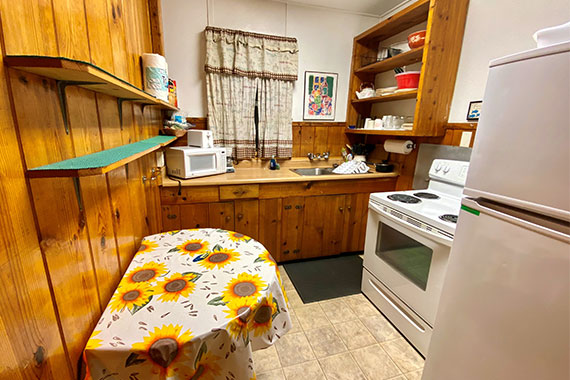 beautiful lake with a sandy beach (no lifeguard on duty)
playground
free boat launch about a mile away
wi-fi (limited)
laundry facilities
ice machine
barbecues (charcoal not provided)
community fire pit (inquire with the camp host).
Supplies may be purchased from stores in the nearby towns of Chester, Prattville and Canyon Dam.
Thirteen units:
3 (4 person)
6 (5 person)
2 (6 person)
1 (7 person)
1 (8 person)
Each unit has the following:
table and chairs
beds (see cabin layout for details)
a bathroom with a shower
a fully equipped kitchen with an electric range, refrigerator, microwave, coffee maker, toaster, cookware, dinnerware, etc.
Campers must bring their own toiletries and linens (sheets, pillows, blankets, and towels).
CABIN #
BED
ROOMS
BEDS
1, 2, 4, 5, 7, 8
One
1D, 1T, 1DF
3, 6, 9
Studio
1D, 1DF
10
Two
3D
11
Two
2D, 3T
12
Two
3D
13
Two
2Q, 2T, 1DF
D=Double Bed; T=Twin Bed;
DF=Double Futons
Q=Queen
Camp Almanor is located at 3045 Almanor Drive West in Prattville. The turnoff to camp is 5.6 miles from the Highway 89/36 junction on Highway 89. Turn at the Almanor Drive West sign (not to be confused with Lake Almanor West Drive) and proceed 1.7 miles to the camp entrance. The turnoff for camp is the Prattville-Butt Reservoir Road, which is 6 miles from the town of Canyon Dam and 2.8 miles from PG&E's Lake Almanor Campground. Turn right and proceed .7 miles to Almanor Drive West. Turn left and continue .1 mile to the camp entrance.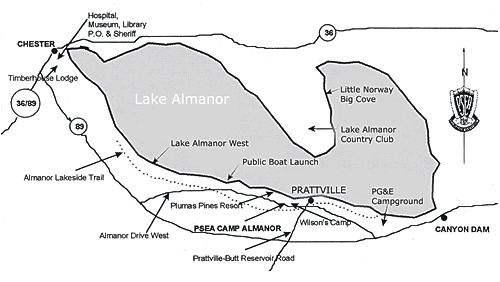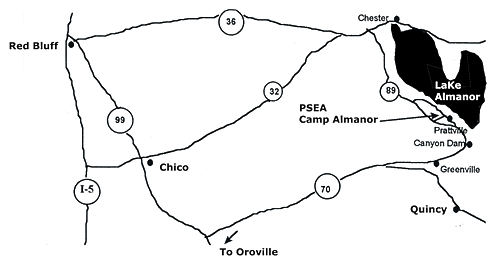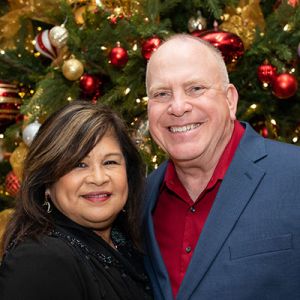 John and Linda Hart
(530) 259-5341
3045-A Almanor Drive West
Canyon Dam, CA 95923
"John and Linda are very nice hard-working folks!!"  – August 2020 guests
" Our caretaker, John, was polite, friendly and very helpful.  Our group was impressed with how clean and neat the cabins were – Thank you!" – September 2020 guests

Several water bodies in the southwestern United States, including California, have become infested with the non-native Quagga mussel in recent years. This species is very invasive and, once introduced, can proliferate rapidly. The spread of these mussels is very damaging to the native ecosystem and ultimately causes significant harm to water collection and distribution systems, including power generation facilities. Fortunately, they are not currently known to exist in any PG&E reservoirs. The biggest risk factor for the spread of this species is bringing watercraft or water-related equipment from infested waters. If you are planning to bring a boat or other water-borne equipment to a PSEA facility, find out more about how you can help prevent the spread of this species by going to the Department of Fish and Game website at https://wildlife.ca.gov/Conservation/Invasives/Quagga-Mussels.